Investing in the Future of Agriculture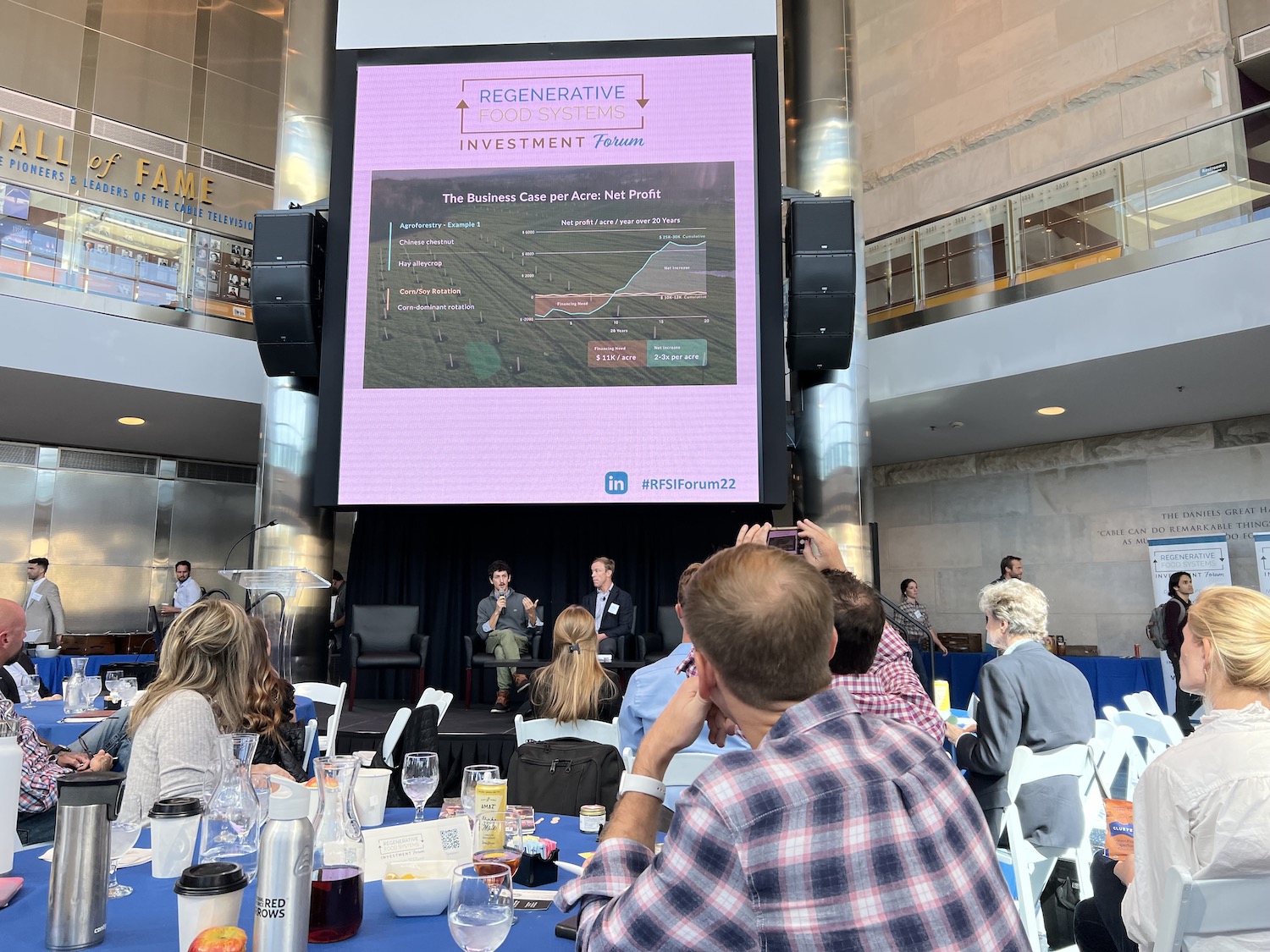 By Sheila Foster, Executive Director
Farmers are hurting. At the Regenerative Food System Investment (RFSI) Forum in Denver this October, what became clear is that the pain is now moving up the food chain. "All this work to be more sustainable isn't just because it's a good thing to do," Lead for the General Mills Water Stewardship Team Margot Conovar said."It's a life raft. Our farmers are hurting, crops are failing." As crops fail there are gaps in the supply chain, and as many companies and customers discovered this year, those gaps can cause empty shelves, missed orders, and a vast array of challenges. 
The RFSI Forum brought together investors, new technology, and ideas around defining regenerative farming. The Biodynamic Demeter Alliance was there to listen and learn, to look for opportunities to support our farmers, and find allies and partners in building a future for our planet. Seeing Wall Street wake up to the importance of supporting agriculture that nurtures the soil rather than stealing from it was exciting. Unfortunately, it was also frustrating to see that while some things have changed, so much has stayed the same. The Forum brought together inspiring people and some great ideas. The principles and practices that Biodynamic farmers have been implementing for nearly 100 years were repeatedly listed as what is needed, from the importance of incorporating livestock to the need for building healthy soil, planting a diversity in crops, and the importance of perennials in the farm system. These principles have been codified in the Demeter standards certifying Biodynamic practices in the U.S., as well worldwide,  for decades, yet few of the U.S. investors at the Forum knew what Demeter or Biodynamic meant, had little idea the standards helped to define organic and regenerative organic standards, and instead were discussing certifications that have only been in existence a few months, or at best a few years.
Biodynamics brings so much to the table. It's about more than soil, but soil is the foundation. It's about more than principles and practices. It is about how we relate to each other, fellow beings, the earth, and our place in the cosmos. Heady stuff for Capital Investment firms to consider, and yet it was clear listening to the pitches and realizing who wasn't in the room as much as who was, that the investment in a future that the world really needs is found not as much by staring at spreadsheets as it is by stepping outside. Understanding that we are all one with the life around us and how we treat each other, how we show up, matters. We have our work cut out for us, that was made clear; there are also many allies who see the need for change. The question will be, can we do it? What does ROI mean when our planet is at stake? Our children's future? Can we begin to look at investment in terms of food on the table, water in our streams, and birds singing in the trees? That is what is at risk now, and that is where the investment is needed. Biodynamic farmers are building those future returns. As the Biodynamic Demeter Alliance, we are looking for ways to make sure they are paid for their hard work. Interested in joining us? Reach out. Let's invest in our future together.