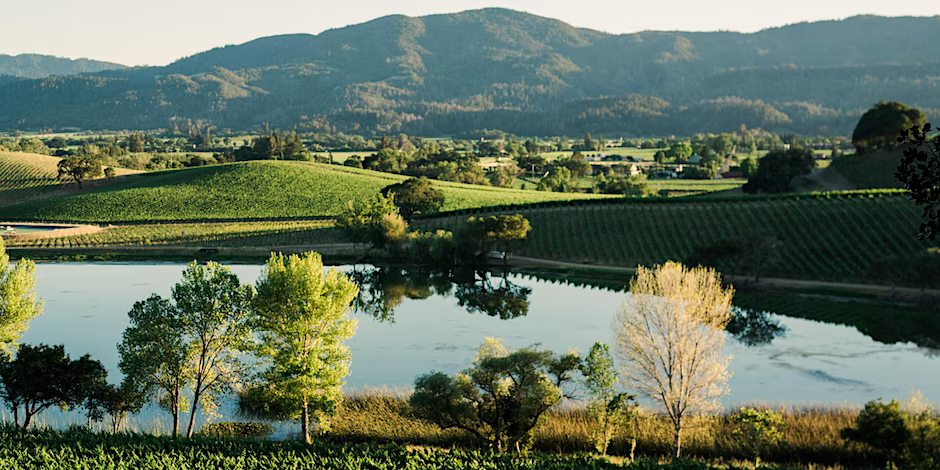 Cambium Napa Valley: A Biodynamic Masterclass Series
Three days of biodynamic masterclasses and tastings featuring international wine producers and leaders in biodynamic viticulture.
About this event
Join domestic and domestic international wine producers and leaders in biodynamic viticulture for three days of masterclasses and tastings at the Quintessa estate in Napa Valley, California. Focused on viticultural practices and principles that build vineyard health and resilience, this immersive and conversational symposium is ideal for wine producers, consultants, viticulturists, sommeliers and wine educators. Attendance is limited to 75 guests.
Our lineup of international winery proprietors includes Chiara Pepe of Emidio Pepe, Federico Ceretto of Ceretto, and Elisabetta Foradori of Foradori. Joining them are biologist Olga Barbosa, geologist and terroir specialist Brenna Quigley, and journalist Samantha Cole-Johnson. Finally, your international team of hosts includes Cambium Formazione founder Adriano Zago, Biodynamic Demeter Alliance's Daphne Amory, Montinore Estate's Rudy Marchesi and Quintessa's Rodrigo Soto.
Over three collaborative days at Quintessa, we'll look at biodynamic agriculture from a big picture standpoint down to specific practices and practical application. The producers will share knowledge and insights gained from biodynamic transformations on both large and small scales. Biodiversity and terroir specialists will layer their lenses over our conversation, as we explore farming and winegrowing in today's changing environment.
Attendance is $1,750 inclusive of three days of masterclasses, plus producer-led tasting sessions and locally sourced lunches served outdoors among the vines.
MASTERCLASS LINEUP
THURSDAY, JULY 27
8:00 a.m. Registration & coffee
9:00 a.m. Setting the stage: Adriano Zago, Daphne Amory, Rudy Marchesi, Rodrigo Soto
Welcome remarks and our shared vision for gathering. The big picture of biodynamic agriculture, through Quintessa's lens: where we are, what we are doing and how we meet the changing environment.
9:30 a.m. Foradori's transformation from monoculture to farm: Elisabetta Foradori, Adriano Zago
Turning a biodynamic property into a multifunctional farm: how our practices equip us for the changing climate.
10:45 a.m. Coffee break
11:00 a.m. Biodynamic preparations as a foundation of farm health: Rodrigo Soto, Adriano Zago
The role of biodynamic preparations in making plants and soil resilient. An exploration of preparations at Quintessa.
12:30 p.m. Lunch
2:00 p.m. A journalist's perspective on biodynamic viticulture: Samantha Cole-Johnson with Amy Currens, Stevie Stacionis & Matthew Gaughan
Panel: Evolving perceptions of biodynamic practices and how to communicate the nuances of your work.
3:30 p.m. Tasting & Discussion, Foradori and Quintessa: Elisabetta Foradori, Rebekah Wineburg, Samantha Cole-Johnson
5:30 p.m. Tasting concludes
FRIDAY, JULY 28
8:00 a.m. Registration & coffee
9:00 a.m. Why biodiversity matters: Olga Barbosa
Leveraging natural capital in and around the vineyard: what can be done and where.
10:15 a.m. Coffee break
10:30 a.m. Emidio Pepe: A journey of biodynamic transformation: Chiara Pepe, Adriano Zago
Key elements of the conversion to biodynamic viticulture, and the results: an Abruzzo experience.
12:00 p.m. Lunch
1:30 p.m. Connecting the root ecosystem with farming and wine: Brenna Quigley & Elaine Chukan Brown
Combining geology and pedology to understand a vineyard's soil and enhance its health.
3:00 p.m. Tasting & Discussion, Emidio Pepe & Hamel Family Wines: Chiara Pepe, John Hamel, Samantha Cole-Johnson
5:00 p.m. Tasting concludes
SATURDAY, JULY 29
8:00 a.m. Registration & coffee
9:00 a.m. How does our built environment support our work with the land? Daphne Amory
The ethos of our biodynamic practice and how it translates toward our physical, built environments for the future – connecting people and the natural world.
10:15 a.m. Coffee break
10:30 a.m. Building organic matter at Ceretto: Federico Ceretto, Adriano Zago
The Piedmont perspective: large-scale strategies for increasing organic matter in a biodynamic vineyard.
12:00 p.m. Lunch
1:30 p.m. Planning for Montinore's outcomes now and in the future: Rudy Marchesi
How we are using biodynamic viticulture to face the challenges of a changing climate, including practical results and development prospects.
2:30 p.m. Reflecting on our learnings: Elaine Chukan Brown
Considering the 'why' behind biodynamics – with an eye toward the future.
3:00 p.m.Confronting our challenges: Adriano Zago, Rodrigo Soto, Daphne Amory, Rudy Marchesi
Collaborative and open discussion around practical strategies for biodynamic viticulture as we face a changing environment.
3:30 p.m. Tasting & Discussion, Ceretto and Montinore: Federico Ceretto, Rudy Marchesi, Samantha Cole-Johnson
5:30 p.m. Tasting concludes
Refund Policy:
Contact the organizer to request a refund.
Eventbrite's fee is nonrefundable.
Questions?
Please contact Carly Imhof or Daphne Amory by email.